Dwij Oza ( PG Degree at Conestoga College, Kitchener, Canada)
Alumni Experience:
I'm Dwij Oza, a resident of Ahmedabad, India. I have a long education history both locally and internationally. Currently, I'm pursuing a second post-graduation degree at Conestoga College, Kitchener, Canada. I completed my master's degree from ISTAR College in Anand city in 2020. After completing my bachelor's degree, I immediately started looking for institutions that provide a master's in instrumentation and control. ISTAR college was among the top institutions not only in Gujarat but in India as well. I immediately made up my mind to join this college. During the course, we had four semesters, divided by diverse subjects from every field of electronics, automation, robotics, and communication. I was surprised when we started learning about how we use industry-leading technologies to communicate with satellites that are far away from the surface. With the diverse fields of study, we had knowledgeable professors who always helped me achieve my desired goals. Our head of the department, Dr. Himansh Kapse, always encouraged us to follow academic integrity. He helped me focus on research work and publishing my first research paper. Our second professor, Mr. Krunal Suthar, enabled me to step outside my comfort zone and learn different subjects related to the instrumentation field. He has a comprehensive knowledge of electronics, and he has fun ways to teach it. The culture at ISTAR College is also very diverse; with people coming from different cities and states, we experienced various festivals and competitions. There is always some event, competition or expert talks happening at ISTAR, with so much information to grasp. The subjects I studied at ISTAR and the way it was delivered is helping me with my current education at Conestoga College. Thanks to my faculties, I have diverse and practical knowledge in almost every engineering field. I highly recommend ISTAR college to anyone willing to work hard and passionately.
Kandula Venkatasainathreddy ( Trainee Service Engineer – TempHu Validation Services )
Alumni Experience:
College Infrastructure
The infrastructure of our ISTAR College is good. The campus is clean and gives good vibes. Along with that, library,Labs, etc., are available. There are comfortable chairs; projector is there for better understanding in academics. Library and classrooms are spacious.
Academics
The teachers here are very helpful and qualified. Their way of teaching is good, and also they are always available if you need any help or want to share something. The teachers here are very helpful, polite and also the faculty were highly qualified, and they had complete knowledge of the subject which they were teaching. Apart from the theoretical knowledge they also try to give us the practical knowledge by organising events, class projects.
Placements
The placements of our college are good. Our placement cell is working hard to place students in great companies. There are good placements, great teachers and excellent facilities with great Infrastructure.

Jamin Rathod (Assistant Manager Services @ Waters India Pvt. Ltd.)
Alumni Experience:
I have completed my M.Sc. Instrumentation from ISTAR in 2007. Till Today I am in contact with College and Specially my Department. The faculties are good and they be in touch with students and they also help students to get the Job. I still remember, I have got very good counselling from my Teachers, which has helped me for Career growth. Every time I visit Anand / VVN I try to visit College to see the changes and to memorize the Old days. I am thankful to ISTAR & specially Instrumentation Department for great education, counselling & support. I will be happy, If anyway I can help my Department/College.

Mr. Ronak Vyas (Service Executive @ Metrohm India Limited)
Alumni Experience:
I was in ISTAR in 2006 Batch in Instrumentation Department. ISTAR is Providing a Safe and Friendly learning Environment with high quality teaching. The Professors of ISTAR are really open and like to talk with students. ISTAR Providing Great teachers, kind staff, lovely classmates and friendly atmosphere. Also they are doing excellent efforts for Campus Placement for students. I Got my first job due to their Placement efforts in Cadila Healthcare Limited, Ahmedabad...
Thanks to ISTAR Instrumentation Department. I Wish Great Success to Instrument Department

Radhika Shah (Trainee Assistant Professor @ ISTAR)
Alumni Experience:
Institution is an opportunity to work toward our goals and gain the education necessary to follow our dreams. I did M. Sc. in Instrumentation from ISTAR. I selected this course because its uniqueness and lots of job opportunities in industries and academics. I am grateful to my teachers for their efforts to make me better person and their support throughout my college journey for my overall development. All thanks to our respected Teachers. Without them it would not have been possible to tread such a great path. Conference and extracurricular activities organized by the Department increased my exposure and made me confident and helped a lot in striving and becoming what I am today. I am very fortunate to be a part of a faculty member of a same department of ISTAR, after completing M. Sc. Instrumentation in 2012. I have seen this institution growing and grooming in every directions viz. Curriculum, Lab facility, internet - wifi, library etc. I heartily thanks to ISTAR and the department.

Kamil Kapadiya (CEO @ Otica Meditronix Co.)
Alumni Experience:
As a Student of ISTAR college, I feel that I have been fulfilled myself with the greater knowledge of Instrumentation during my study under umbrella of HOD Instrumentation and control. Wherever I go my knowledge differentiate me as a superior because we had a great practical knowledge during our studies. In ISTAR we have studied more compare to one BE student does. We had a great time in ISTAR and the department of Instrumentation and control were very supportive and like family where we can share our problems. I am very much thankful to HOD, ISTAR. For such a great support.

Ronak Limbachia (Sr. Executive Project & Marketing @ BT Water Treatment Pvt. Ltd..)
Alumni Experience:
ISTAR college is one of the best college in Vallabh Vidyanagar, Anand, Gujarat, for studies as well as extracurricular activities. Good campus with greenly environment. In case of teaching aspect I m very glad to say I have never saw such good faculties before..... Each faculty are very good. Moreover, excellent exposure to the every kind of facilities i.e Lab Instruments, library, internet, sports, national level seminars with renown personalities, fest, technical things etc.

Radheshyam Patel (Engineer @ Samarth Instruments)
Alumni Experience:
ISTAR is a excellent college in SPU for PG course and R & D. There are many courses of M. Sc. and Ph. D. I study in Instrumentation & Control and there are all subjects very helpful in my field work. Also it is very active department to conduct seminar and unit test which is very helpful in improving our merit. So it is good to be student of ISTAR.

Ahemadabbas Parbadiya (Junior Engineer @ Kevin Technologies)
Alumni Experience:
For job Instrumentation & Control Department has helped fully because of projects works which are done in M. Sc. I joined Kevin Technologies Pvt. Ltd. Its located in Ahmadabad Gujarat. Its a life science company taking all types of automation solutions. I joined as a Trainee Engg and within 6 months become Junior Engg.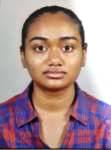 Bhumi Patel (Trainee R & D Engineer @ Leons Integration)
Alumni Experience:
I did my BSc. Instrumentation and joined ISTAR for MSc. Instrumentation and Control, as it is a unique course in Gujarat. I was interested to learn, know-how about different instruments, and about the programming to control different automated devices. I am happy to inform you all that it was excellent learning experience during whole two years. Instrumentation and Control department has excellent classroom and lab facility for hands on and all the faculty members are highly qualified and experienced. Their cordial guidance made my learning easy and also supported for placement. I am going to join Leon's Integrations Company in the R & D department. Overall it was happy learning in Instrumentation and Control.