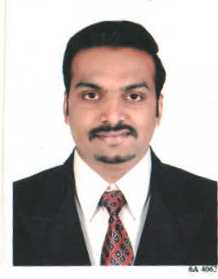 Vishnu Vyshak Lal ( ETP Officer ) @ Coromandel International Ltd Crop Protection Division, Ankleshwar
Present Status:
- After completion of my M.Sc. (EST), I worked with Coromandel Crop Protection Division in ETP Division, Ankleshwar.
- I undergone 5 months Internship with New Treatment Technology (Hydrodynamic Cavitation) for wastewater treatment at Nandesari - Sabari Chemicals Pvt. Ltd.
- I had a good working experience with Green Circle Consultancy, Vadodara in Risk Management Services.
- I carried out my Project Work at GCPC, Gandhinagar.
Presently, I am focusing on IAS (UPSC Civil Service Exam).

Alumni Experience:
I completed my M.Sc. EST at ISTAR in 2016. The scope of syllabus has very much wider implications in industries ETP/CETP, Pollution Control Boards, NABARD Government Banks, UGC-CBSE NET, ASRB-ACIR NET, Academics institutions, Colleges, Space Research Centres, etc. The faculty of EST is one of the best faculties in India with polite and down to earth nature, who always being helpful for motivating the students in their study and carrier life. The Head and Professor of the EST Department Dr. NIRMAL KUMAR J.I. (M.Sc., Ph.D., FNEA, AFGSA) is a dignitary in India and abroad, having 27 years (Teaching) + 32 years (Research) experience. Dr. HIREN. B. SONI (M.Sc., Ph.D.) is an Assistant Professor of EST Department having 12 years (Teaching) + 21 years (Research) experience. Dr. DHRUTI S. PATEL (M.Sc., Ph.D.) is an Assistant Professor having 7 years (Teaching) + 7 years (Research) experience at the EST Department. The Faculty and EST Department is having one of the best Practical Laboratories and Lab Technicians in India for teaching Environment Science, and also is different from other Universities due to its novel and innovative teaching methodology in technological aspects of Industries, Ecology, Industrial Hygiene and Safety, Microbial Technology, Air Pollution and Control Technology, Water Pollution and Control Technology, and Waste Management and Control Technology. The syllabus of EST meets the requirements of the present day scenario with problems related to industries, pollution and its abatement, and climate change issues and challenges. After completion of 2 years of Masters Program at EST, ISTAR, the quality of the student is highlighted in every way through personality and knowledge upgradation. I, myself, am one of the best examples. Special thanks to faculties of EST - Prof. Nirmal Kumar, J.I., Dr. Hiren B. Soni, and Dr. Dhruti S. Patel, for boosting and motivating me for my bright carrier ahead. Thank you all.